Books+More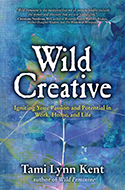 Wild Creative
Igniting Your Passion and Potential in Work, Home, and Life
Life as art. Moving from the realm of the physical body into the body of making a life, Tami invites readers on a journey into the creative energy field—this place between spirit and body where the energy to manifest our dreams resides. Any profound creation—a child, a piece of art, a profession, a relationship—is infused first with the energy of what is not yet formed. We draw inspiration from this energy field and shape it into a visible manifestation. In Wild Creative, Tami shows readers how to tap into their creative center and access the natural, sustaining energy that is inherently theirs. Through stories, visualizations, and other creative exercises, Wild Creative reveals groundbreaking tools for realigning the creative field and actively designing your life. Using the language of the wild landscape within, discover your creative genius for igniting your true passion and potential.
"wildly alive and deeply fulfilling."
Donna Eden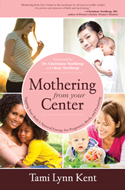 Mothering From Your Center
Tapping Your Body's Natural Energy for Pregnancy, Birth, and Parenting
Building on themes from Wild Feminine, Mothering from Your Center is Tami's book for celebrating the creative potential within the mothering path. It contains ground-breaking energy medicine and holistic tools to support the whole creative journey from conception and pregnancy, to birth and mothering from the beauty of your center. It teaches you how to access the healing power of birth energy so that you can heal from a difficult birth event (or even birth loss) and recover the birth flow meant to always run between you and your child. It also shares Tami's essential women's medicine for pelvic healing from birth & restoring the vitality of your root so that you feel whole and fully alive.
"Great hope for…all things precious to the female body."
Ina May Gaskin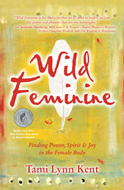 Wild Feminine
Finding Power, Spirit & Joy in the Female Body
2012 Nautilus Silver Award Winner. In her book, Wild Feminine, Tami invites every woman to journey deep into the heart of her female body, to her root place, and the root of all womanhood. Through stories, visualizations, and creative exercises, the wisdom arising from the female body has been distilled into this guide for exploring the feminine nature.
Tami draws from her experiences with the physical body and female energy system to provide a framework for navigating the various realms of the feminine. Traveling the terrain of feminine landscape, Tami reveals the amazing potential of the female body: a potential to create, to heal, and to transform the energy that infuses a woman's everyday life.
"
Wild Feminine
is the medicine that we all need to bodily reclaim the power and pleasure that are our birthrights."
Christiane Northrup, MD
Contact Karen Preston at publisher Beyond Words for volume discounts.
Praise for Tami's books
"Never before have I seen an author put into words concepts that encompass the deepest spiritual meaning and eternal symbolism of what it means to be a woman and mother. Kent's book is infused with her own well-earned wisdom and is a must-read for any student or teacher of the creative mysteries of the female body and the energies that define us."
Rosita Arvigo, DN, traditional healer and founder of the Arvigo Techniques of Maya Abdominal Therapy
"Wild Feminine is the medicine that we all need to bodily reclaim the power and pleasure that are our birthrights."
Christiane Northrup, MD, author of Women's Bodies, Women's Wisdom, Mother-Daughter Wisdom, and The Wisdom of Menopause.
"By suggesting a return to the root, Tami Lynn Kent offers direction for a path largely forgotten. Within the pages of Wild Feminine lies great hope for women, natural birth, and all things precious to the female body.
Ina May Gaskin, midwife and author of Spiritual Midwifery
"As a former midwife and the current organizer of international conferences for women, I am thrilled to recommend this unique book by Tami Lynn Kent. There is not a woman in the world who would not benefit from reading it. Whether you are seeking healing from emotional or sexual wounding or you just want to learn how to more fully enjoy and inhabit the most feminine aspect of yourself, this book will be a friend for life."
Elizabeth Lesser, co-founder of Omega Institute, author of Broken Open: How Difficult Times Can Help Us Grow and The Seeker's Guide