Ocean Retreat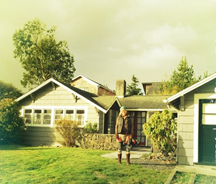 Inspired by a love of meditative times by the sea, Tami is pleased to share Eco-Ocean House, her family's newly restored 1930 classic Oregon beach house in a quiet neighborhood of Seaside, Oregon, about 75 miles from Portland. Two short blocks to the beach, Eco-Ocean House features 3 bedrooms, 2.5 baths, plus two other sleeping areas for maximum occupancy of nine.
Coming from a family of contractors, Tami led the house's restoration with salvage fir & pine wood. With a focus on health and beauty, the artfully designed house features a new kitchen and bathrooms as well as a new heating/air filtration system, natural latex mattresses, and eco-friendly building materials for exceptional indoor air quality and comfort. The quiet location and interior layout sets the stage for relaxation and ease even with a large group or winter weather. This spacious, light-filled house is ideal as a retreat space, for family & friend gatherings, women's groups, or anytime the ocean beckons.
Plan Your Stay at Eco-Ocean House
Eco-ocean house can be rented for 2 nights (or more) in the off-season ($195 per night) or 3 nights in the summer ($300 per night). See our listing on VRBO. Plan a retreat and re-energize in the wild at Eco-Ocean House.